HONORING EXCELLENCE, RESILIENCE AND GRIT IN THE AFRICAN DIASPORA 

Honoring Excellence, Resilience and Grit in the African Diaspora.
The annual NPG Gala is more than just an event; it is a platform to celebrate Africans in the Diaspora, honor their remarkable achievements, and, most importantly, shape our narrative.  In a world where negative media outreach can perpetuate single stories about Africa, we recognize the inherent risk it poses to our diverse community. At NPG, we are committed to countering these narratives and addressing this issue head-on by shining a light on our stories through our lenses. We take immense pride in recognizing individuals from various African nations who have demonstrated unwavering dedication, achieved remarkable success, and promoted professionalism, enabling our African diaspora community to thrive. These remarkable individuals, through their work and dedication, not only break down stereotypes but also contribute to the creation of a diverse, multifaceted narrative about our community. They have consistently embodied the values of professionalism, integrity, and community spirit, serving as inspiring examples. To all our awardees, we extend our heartfelt gratitude for being unwavering voices of inspiration in our generation and for their commitment to helping our community thrive. Your work has left an indelible legacy, and we are privileged to celebrate your excellence. Thank you for being the driving force behind positive change and leading us into a brighter future where we can collectively own our stories and thrive. 

Don't miss out on this exceptional celebration of thriving excellence. Secure your tickets now to the NPG Gala & Awards 2023, where the stage is set for an unforgettable night of empowerment, unity, and unbridled success
Marriott Boston Quincy Hotel: 1000 Marriott Drive Quincy, MA 02169
Saturday, December 9th, 2023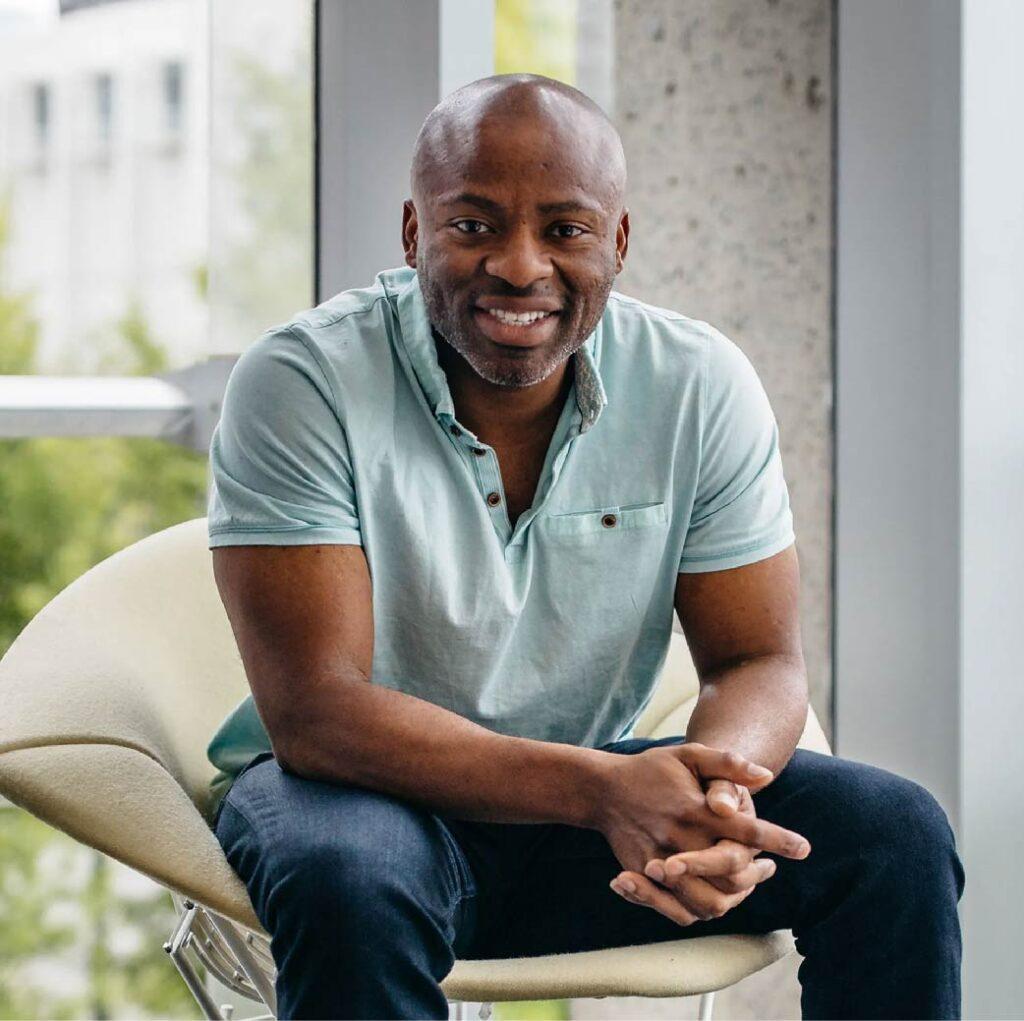 Tope Awotana's journey is one of audacity and relentless determination. It all began during his formative years at Perceptive Software, where he had an epiphany that success rarely follows a linear path. This realization became the spark that ignited his entrepreneurial spirit. Tope dipped his toes in various ventures, including dating websites and ecommerce, but his defining moment arrived in 2013. Frustrated by the endless back-and-forth emails required to schedule meetings, Tope saw an opportunity to change the game. He founded Calendly, a scheduling solution that would not only streamline the process but also embody his unwavering commitment to innovation. Tope's dedication was unwavering, as he invested everything he had earned into this groundbreaking project, a move that would set him on a trajectory of remarkable success. Today, Calendly has served nearly 30 million users and boasts a staggering 100% annual growth rate. Tope's journey from risk to reward, from frustration to innovation, has earned him the prestigious Visionary Award. This accolade recognizes not only his exceptional achievements but also his profound impact on global communities, especially those in Africa. Tope's story is a testament to the power of innovation, determination, and the boundless potential for positive change in our world. 

Prince is CEO & Co-founder of MelliCell Inc, a pre-clinical biotech company focused on developing therapeutics for obesity & diabetes. The company headquartered in Newton, Massachusetts is known for its drug discovery platform and as the only company in the world with the ability to grow human fat cells to physiologically relevant and mature sizes. Currently, MelliCell has 3 assets (drug candidates) it is preparing for clinic in the next 18 months. Mellicell's Innovation and determination to cure diabetes and obesity has caught the attention of big pharma and Prince has led the strategic partnership and collaboration with Novo Nordisk and Boehringer Ingelheim, the largest players in the space. Prince Nnah's journey through the realm of healthcare leadership is nothing short of extraordinary. It's a journey marked by entrepreneurial zeal and an unwavering commitment to excellence. With a wealth of experience in various leadership roles, he has consistently demonstrated his ability to lead and inspire. One of his pivotal chapters unfolded at IntelyCare, where he held dual roles as Chief Business Development Officer and Chief Revenue Officer. Prince Co-founded Intelycare the #1 fastest growing company in Massachusetts in 2020 according to Inc 5000. His leadership and vision help guide the company to achieve UniCorn status in 2022.Here, he played a crucial role in transforming staffing solutions for skilled nursing facilities. His innovative thinking and strategic acumen paved the way for operational enhancements that left an indelible mark. 
 This outstanding journey has led Prince Nnah to be recognized with the Trailblazer Award, a testament to his visionary innovation and unwavering commitment to excellence. His contributions to the healthcare industry and his communities are nothing short of inspiring. They reflect his relentless determination and the hard work he has invested over the years, leaving a significant and lasting impact.

Her mantra, "Be seen. Be heard. Be healthy," encapsulates the core philosophy of Cityblock Health, a healthcare provider she co-founded. This organization was born from her lifelong mission to make a difference, especially in addressing healthcare disparities. Dr. Ajayi's transformation from a dedicated family physician to a healthcare activist and entrepreneur showcases her visionary spirit. As the CEO of Cityblock Health, she is at the forefront of pioneering technology-enabled healthcare solutions that make a tangible difference in the lives of underserved populations. Her numerous accolades, including recognition in prestigious publications like Modern Healthcare and Entrepreneur Magazine, serve as a testament to her tireless efforts in advancing health equity and fostering innovation. 

In the world of insurance, there are those who simply follow the path, and then there are visionaries who forge new trails. Patience Noah undoubtedly belongs to the latter category, and her journey is nothing short of inspiring. In the year 2019, Patience set forth on a transformative quest, one that would reshape the insurance sector. It was in Framingham that she planted the seeds of Patience Noah Insurance LLC, a venture that would soon become synonymous with innovation, diversity, and unwavering dedication. As an independent agent, Patience's mission was clear: to empower her clients. She didn't just offer insurance products; she provided insights, guidance, and unwavering support. Her professionalism was the bedrock of her service, ensuring that her clients received the best coverage, a testament to her unyielding commitment. But Patience's impact extended far beyond the realm of business. She found purpose in mentoring young adults, guiding them on the path to self-discovery and success. However, her dedication didn't stop there. She took on the role of a board member for the African Community Education (ACE) program, where she actively contributed to the assimilation of African immigrants into U.S. society. In 2021 Patience was featured on Independent Insurance Agents Magazine as one of the young agents across the country that are going places. This year she was named as one of the Rising Stars across the country by the Insurance Business of America. She was also recognized this year by the Charles River Chamber of Commerce as one of the emerging leaders of color in Metro West. She was also recognized by the Nimba County Association of Massachusetts as a young business leader in the community. Patience was recently accepted into the Goldman Sachs 4th Cohort of the Black in Business program as one of 149 students out of 2,000 applicants. As Miss Liberia USA 2012, Patience is proud to serve as a role model for young women and always encourages them to aim higher. If someone denies them an opportunity, all they have to do is create one for themselves. Today, Patience Noah stands as a beacon of inspiration. Her unwavering commitment to excellence, her resilience in the face of challenges, and her dedication to making a difference have earned her the well-deserved Young Business Leader Award. It's an accolade that celebrates not only her personal success but also the positive influence she radiates in the business world, inspiring others to follow their dreams and make a lasting impact. Patience's story is a testament to the transformative power of vision, dedication, and a passion for empowering others.
Frank Dike is a Managing Director with 24 years of Operations, Risk, Control, and Client Service experience in the Financial Services Industry across several Segments (AssetManagement, Alternatives, Banking) and functions (Operations, Risk Management, ClientService, and Process Re-engineering). He is the Global Head of Business Risk Management responsible for Standards, Controls, Policy, and Business Process Mapping across Global Delivery and Investment Servicing. During Frank's 24-year tenure, Frank has held various Client Service, Operational, Risk Management, and Control roles at Citizens Bank, JP Morgan, and State Street. Frank is a member of the Black Professionals Group (BPG) and co-founded the Black Leaders Cohort, which consists of the most senior black leaders at State Street globally. Frank is a Fellow and Next Generation Executive Alum at 'THE PARTNERSHIP INC" and was the president of the Board of Directors for the Center for Health and Learning in Vermont. He is Co-Founder of Medcera, a health-tech startup in Nigeria. Frank studied Optometry in Nigeria and holds two graduate degrees from Boston University And Harvard University. He loves solving problems, ideating, traveling, and watching movies 
 Frank's recognition at the NPG Gala and Awards Night stands as a testament to his profound and lasting contributions across various industries, underscoring his status as a seasoned financial and leadership expert. 

In a male-dominated sector, Tosin has shattered the glass ceiling. Her success and achievements serve as an inspiration for aspiring female leaders. She's not just a pioneer; she's breaking barriers and paving the way for more women in the industry. Accomplished technology, and energy industry executive. Tosin is a leader who drives organization transformation, she leverages technology to transform businesses and drive step changes in profitability performance. Tosin Joel works as Project Director of NextEra Energy Resources, the world's largest renewable energy company (Market cap: $170Bn.) She previously worked at Amazon and Italian multinational giant Eni as project head. She attended MIT Sloan Business School of Management and Stanford LEAD executive programs.   Tosin has held global leadership positions in technology and business operations across industries with major multinationals energy companies across the US, EMEA to maximize opportunities across the entire value chain.    Tosin is a serial entrepreneur and industry leader who founded a nonprofit GTBOOL (www.gtbool.com), a networking organization centered on personal growth and sponsorship of high-talent professionals and startups. She is an advocate for local business development and circular economy. At Stanford LEAD, she is a mentor for Silicon Valley design thinking 'SVDT' club entrepreneurs on go-to-market and scaling strategies. Her dedication to personal growth, mentorship, and the sponsorship of high-talent professionals and startups through the GTBOOL network showcases her unwavering commitment to nurturing emerging talents. Tosin's advocacy for local business development and the circular economy has had a profound impact on her community. Tosin is not just a successful entrepreneur; she's an accomplished operations and supply chain executive and a technology leader. Her list of achievements is not just impressive; it's truly commendable.She is industry thought leader who has leveraged the rules of power to advance her career, she connects industry executives and was named Italian country director for most Influential People of African Descent 'MIPAD'. Tosin Joel's recognition with this award is not just a celebration of her innovation and influence; it's a tribute to her remarkable journey and the impact she's had on the business world and her community. 

Ebosetale Blessing Ikhuoria
Ebosetale Blessing Ikhuoria, a dynamic and multifaceted professional, was born in the vibrant city of Lagos, Nigeria. Her life's journey is a testament to the power of determination, passion, and an unyielding commitment to making a significant impact in the world of biomedicine, pharmaceuticals, real estate, and beyond. Blessing Ebosetale is undeniably a rising star in the field of biomedical engineering; she's a force to be reckoned with. Her interests are as diverse as they are impactful, ranging from biopharmaceuticals to clinical research, stem cell therapy, tissue engineering, clinical development, and cancer biology. Her knowledge and unwavering commitment are not just commendable; they're truly inspiring. Blessing's track record is nothing short of impressive. Her experience spans across personal healthcare, pharmaceutical manufacturing, and intricate laboratory procedures. Her hands-on involvement in areas like molecular biology assays, DNA isolation, DNA sequencing, PCR amplification, and protein purification showcases her expertise and skills. Ebosetale's impressive academic achievements paved the way for a distinguished career in the pharmaceutical industry. She currently holds a pivotal role as the Manufacturing Operations Manager at Pfizer Inc., a globally renowned pharmaceutical company. In this role, she applies her deep knowledge and skills to oversee crucial operations, ensuring the production of life-saving medications that impact the lives of countless individuals worldwide. In addition to her role at Pfizer, Ebosetale's entrepreneurial spirit has led her to establish her own ventures. She is the founder of "The Talk with Ebose" (TTWE), a platform dedicated to bridging the gap between academic knowledge and its real-world application in the STEM field. Through TTWE, she imparts invaluable insights, experiences, and mentorship to young professionals, creating a path for their growth and success. Ebosetale Blessing Ikhuoria's life story is a testament to the power of education, resilience, and determination. Her contributions to the fields of biomedicine, pharmaceuticals, entrepreneurship, and real estate underscore her commitment to making a positive impact in the world. As a versatile professional, leader, and mentor, she continues to inspire and uplift those who follow in her footsteps, leaving an indelible mark on the world.
In 2018, Prince Daniel Wilson founded Alpha Apogee, a New Jersey-based staffing firm, extending its reach to six states and employing over 2,500 individuals, including many with Nigerian heritage. His commitment to creating opportunities was evident. Amid the challenges of 2020, Prince Daniel introduced Prince Luxury Real Estate, showcasing his unwavering determination. Beyond business success, he actively engaged with African and Nigerian communities in the United States, supporting new businesses, events, and aspiring entrepreneurs. Prince Daniel Wilson is the distinguished recipient of the Impact Award at the NPG Gala and Awards Night 2023, a tribute to his profound impact across industries and in the hearts of people. His mentorship and dedication empower others to realize their full potential, making him an inspirational figure 

Don't miss out on this exceptional celebration of thriving excellence. Secure your tickets now to the NPG Gala & Awards 2023, where the stage is set for an unforgettable night of empowerment, unity, and unbridled success
Marriott Boston Quincy Hotel: 1000 Marriott Drive Quincy, MA 02169
Saturday, December 9th, 2023